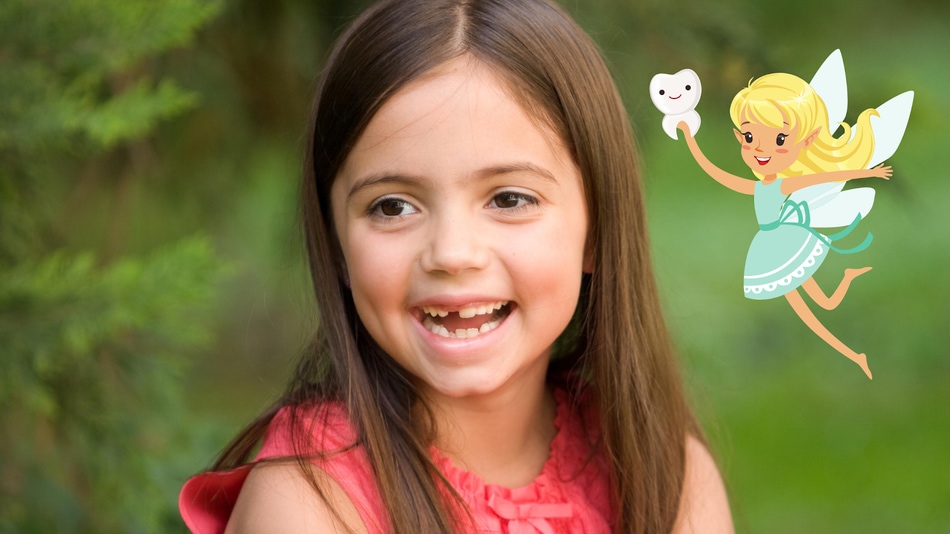 21 Aug

How to Use National Tooth Fairy Day to Teach Good Dental Habits

As a parent, you're always looking for ways to encourage your child to adopt healthy habits. This can be especially difficult with their dental health. No one wants to spend their evening trying to convince their child to brush their teeth, but it can be an all too common occurrence.

Thankfully, you have the Tooth Fairy to back you up. She's the perfect ally in encouraging your child to brush and floss. Not only that, but she may even be able to help your kids eat healthier and maintain basic oral hygiene!

To learn how the Tooth Fairy can help your child have better dental health, we'll look at:
What is National Tooth Fairy Day?
How the Tooth Fairy can reward good dental hygiene
Using the Tooth Fairy to teach good nutrition
Not forgetting the basics
Healthy dental habits start early. Enlist the Tooth Fairy as your ally in ensuring your kids have a lifetime of good oral health!
What is National Tooth Fairy Day?
National Tooth Fairy Day is a twice-yearly national holiday where we celebrate the Tooth Fairy and all she's done for us. Okay, maybe the Tooth Fairy hasn't done that much for you, or for anyone in actual reality. However, National Tooth Fairy Day is a wonderful way to get your kids thinking about their teeth and long-term dental health!
Falling on August 22nd and February 28th every year, National Tooth Fairy Day originated in the 1920s as a way to encourage good hygiene in children. Health experts developed commercial ads and taught classes that stressed the importance of:
Eating a healthy diet
Spending time outside in fresh air
Regularly brushing their teeth
The movement really kicked off in 1927 with the publication of The Tooth Fairy by Esther Watkins. As her playlet began being performed and grew in popularity, children fueled by their vivid imaginations began to place their lost baby teeth under their pillows in anticipation of a visit from the Tooth Fairy.
Certain aspects of the Tooth Fairy have changed since the 1920s. For instance, during World War II it was customary to slip War Stamps under a child's pillow instead of paper bills or coins. What hasn't changed is the opportunity the Tooth Fairy provides to you to teach your kids about good oral hygiene!
How the Tooth Fairy Rewards Good Dental Hygiene
Most people associate the Tooth Fairy with losing a baby tooth. While this is true, you can use the idea of the Tooth Fairy to reward your child for good dental health! Most "tooth fairies" pay between $3 and $4 for their child's lost baby teeth. How much you pay is up to you as well as the option to leave more under your child's pillow.
Explain to your child that, just like them, the Tooth Fairy is drawn to shiny, pretty things. She also understands the importance of quality and likes to reward children more for having healthier teeth. This can help encourage them to a good job of brushing and flossing in hopes of seeing what the Tooth Fairy will leave behind.
This doesn't have to be more money, and remember that there are other types of rewards besides cash. It could be a fun new toothbrush, toothpaste in a flavor your child likes, or something else they would enjoy. You can also write a note from the Tooth Fairy telling your child what a good job they're doing and encourage them to keep it up!
Using the Tooth Fairy to Teach Good Nutrition
There's more to maintaining a shiny set of pearly whites than brushing twice a day and flossing. What we eat affects our oral health, too! That's why it's important to teach good nutrition from an early age. Otherwise, sugary and acidic foods and drinks will undo all of you and your child's hard work.
Teach your child about how good nutrition can also help them have healthy teeth. Healthy food does this by being loaded with vitamins and minerals that protect teeth as well as overall health.
Your child can start by getting lots of calcium. This includes foods like:
Cheese
Yogurt
Milk
Leafy greens
Almonds
Calcium-fortified foods
Protein is another important aspect of good dental and overall health. High-protein foods contain other minerals such as phosphorus that strengthen your child's teeth, gums, and jaw. They also help rebuild enamel that may have been lost due to unhealthy options like candy, sodas, and sugary juice drinks.
Foods loaded with protein and phosphorus include:
And be sure that your child is eating plenty of fruits and vegetables. Don't worry about fruits being high in sugar since their high fiber and water content more than makes up for it.
Don't Forget the Basics
While it's easy to get creative with the Tooth Fairy, and we certainly encourage you to, don't forget the basics of good oral hygiene. This includes making sure your child:
Brushes their teeth twice a day
Flosses once a day
Visits the dentist regularly
Buy your child a toothbrush with soft bristles that fits their hand and in their mouth. Remember that just because a toothbrush costs more doesn't automatically make it better. Talk to their dentist for recommendations if you're not sure where to start. And don't forget to replace it every three months or when the bristles begin to fray.
Most people don't floss as much as they should, if at all. This can be a huge problem since floss is able to reach areas that a toothbrush can't. Flossing is essential to maintaining good oral health since it helps remove bacteria in places a toothbrush can't reach. The next time you come in for an appointment we can demonstrate how to properly floss teeth for you and your child!
Finally, don't forget to take your child in for regular checkups and cleanings. Many children are scared of the dentist, but it doesn't have to stay that way. Thankfully, the Tooth Fairy can help them get over their fear! You can tell your child that the Tooth Fairy and the dentist are good friends who want to make sure kids have healthy teeth. While this may not completely erase their fear, it may help them be less afraid.
While primarily concerned with baby teeth, the Tooth Fairy wants to ensure that your child has a lifetime of good oral health. Building these basic and essential habits when they're young will help make sure this happens!
The Tooth Fairy is a wonderful way to teach your child about good dental habits. Invented to help teach children about good hygiene, she's been motivating kids to brush their teeth since the 1920s. Use the Tooth Fairy to reward your children for having healthy teeth and good oral hygiene by leaving money or teeth-related gifts. The Tooth Fairy is also a great opportunity to encourage healthy eating habits linked to strong, healthy teeth, as well as reinforcing the basics of good oral care.
Augusta Family Dental has two convenient locations to better serve you. You can contact our Augusta office by calling (706) 863-4567, or schedule an appointment online. You can schedule an appointment with our Hephzibah office by calling (706) 793-3600.